Francis Patrick Sheehan:
Boston Irish-American Athletic Club Champion
Born August 31, 1884, Francis Patrick Sheehan was a middle distance runner from the Dorchester neighborhood of South Boston. He was a member of the St. Alphonsus A.C., South Boston A.C, Boston Athletic Association and the Boston Irish-American Athletic Club. He was also a member of the 1908 US Olympic Team.
In 1907, at the Amateur Athltetic Union junior championship games held at the Jamestown Exposition in Northfork, Virginia, Sheehan broke the 880 yard record with a time of 1:56.4, landing him a spot on the 1908 Olympic team. Later that year, Sheehan competed in the Amateur Athletic Union indoor championships held at Madison Square Garden.
He was not one of the 76 athletes who was sponsored for the trip to the 1908 Olympic Games in London, so he paid his own way by working on a ship for his passage. Sheehan competed in the 800 meter race, placing last in the initial semifinal heat, so he did not advance to the final.
On a Saturday afternoon in the summer of 1909, Sheehan took a break from his job as a roofer to compete in the 880 yard race at the annual games of the St. Augustine Parish in Boston. In a scalp-raising finish, he defeated Emilio Lunghi, the silver medalist in the 800 meter race in the 1908 Olympic games, who was competing in America for the I-AAC.
Sheehan spent 42 years working for the Boston school system, and when he died at age 68 on April 29, 1953, he was the deputy superintendent of the Boston school buildings. He also had a life-long affiliation with the Boston Athletic Association, serving as an official and judge. He was survived by his wife Frances, five daughters and three sons.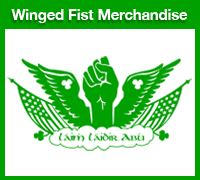 All of the images on this page are courtesy of the Sheehan Family, and may not be reproduced without permission.
Frank Sheehan in 1908 Olympic uniform.
Frank Sheehan's gold medal for a record breaking 1st place finish in the 1907 Amateur Athletic Union Junior Championship, 880 Yard Run, held at the Jamestown Exposition, Northfork, Virginia. Photo courtesy of the Sheehan Family.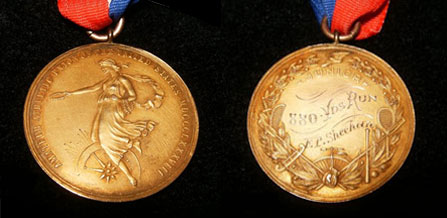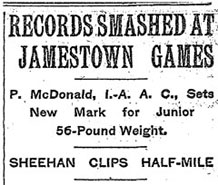 All content on this site, unless otherwise specified, is © Copyright Ian McGowan / Winged Fist Organization.
Web Design Conrad Landais